Before the decision was made, we struggled with the evidence. The question seemed relatively simple: "Should we install gutters on the Stone House?" The earliest photograph we have of the log side of the house seems to show that there were no gutters installed on that side of the structure at that time. Nevertheless, that does not prove there were no gutters installed at an earlier time, nor does it preclude the possibility of there being gutters on other parts of the house at that time, or at an earlier time in the history of the structure.
Historical written sources and physical evidence of gutters on circa 1830 houses in western Virginia are hard to find. It is likely that those who had gutters on their homes in Newtown/Stephensburg during that period had installed wood gutter systems that employed boards fixed in a V-shape. Some wealthier homeowners may have had these V-shaped wood gutters lined inside with tinplate iron sheet metal. At first, only the wealthiest members of society could afford gutters made entirely of tinplate iron sheets. Terne sheet metal is a form of tinplate that is thin iron or steel coated with an alloy of lead and tin. The earliest half-round metal gutters were made of terne sheet. They were also rolled on both edges. (See the image below.) Our historic structure consultant Doug Reed has a collection of antique gutters and downspout segments that he has saved over the course of his career working on old buildings. We would like to thank him for sharing this collection with us and allowing us to take the photograph featured here.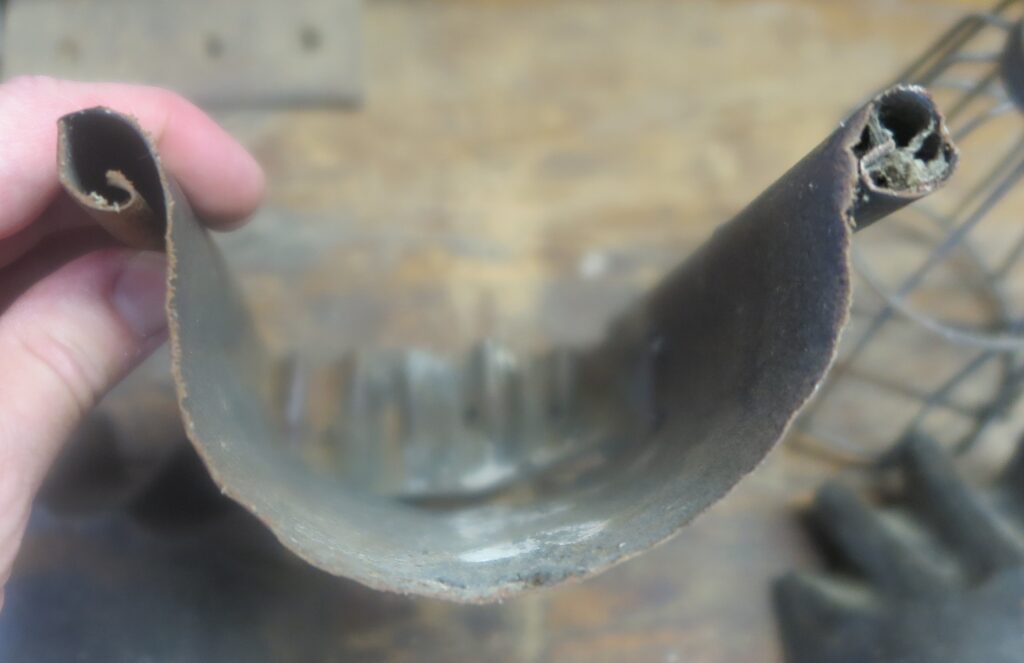 The way gutters were held in place on buildings in the 1830 period included wrought iron brackets. Our President Linden Fravel had seen examples of period wrought iron gutter brackets during a visit to Old Salem in Winston-Salem, North Carolina. In turn, we contacted their Museum of Early Southern Decorative Arts to request photographs of examples from their collection. Among the examples they had was a gutter bracket designed to be mounted under the shingles and attached to the side of a roof rafter. (See images below.)

In the end we decided that in the interest of preserving original building fabric and protecting the restored parts of the structure, it would be best to install period-appropriate gutters on the Stone House. Those reproduction gutters have arrived. (See image below.) We are having gutter brackets (similar to the one pictured here) made by Williamsburg blacksmith Mark Sperry.