In the Holiday 2021 issue of our newsletter, we happily announced that we could finally help people envision what the Stone House looked like in 1830. We shared a digitally created mock-up of a painting that is being donated by our Stephens City Main Street neighbor, Mr. Joe Gainer. (See image below.) As a talented graphic artist, Mr. Gainer graduated from the Maryland College of Art & Design and worked for thirty years as a graphic illustrator for the Department of Defense. He was inspired by the works of Norman Rockwell and the old masters. Mr. Gainer has experimented with a number of painting, drawing, and sculpting mediums throughout his career and just recently started working in oils.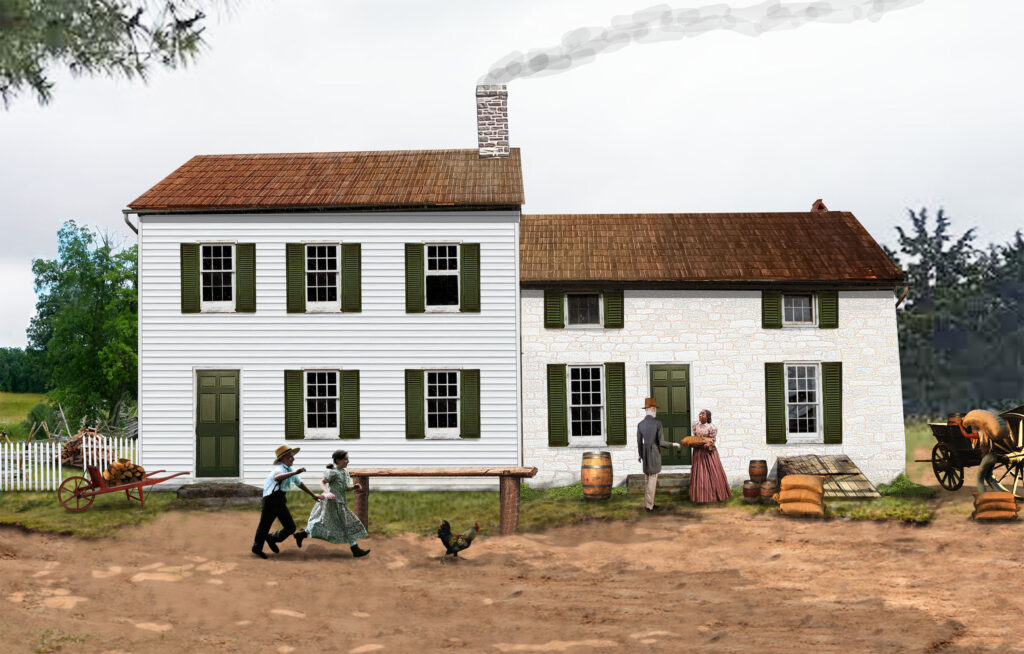 In this post we will explore the reasons why we believe the Stone House looked the way Mr. Gainer has depicted it in this image. While there are no period photos or paintings of the Stone House from that time, we do have evidence remaining in the structure itself, as well as surviving architectural artifacts from other buildings in town that date to that time period. As we have explained before in previous articles, the surviving weatherboards that we discovered under the roof of the shed addition behind the log side of the structure had remnants of whitewash buildup on their outer surfaces. We also have previously related how we discovered that re-laid stones in the reconstructed rear wall of the stone side of the house also had surfaces that were coated in whitewash. Those stones with whitewashed faces had been preserved behind a dado panel of the southernmost room of the house. We therefore can conclude that all the exterior wall surfaces on both sides of the house were originally whitewashed.
The color palette employed on the exterior window shutters and doors is more speculative but nonetheless based on historical precedents. In addition to historical documents that mention the common use of dark green paint on shutters, and its continued use on traditional shutters today, we also have a surviving period example of a locally made shutter in our museum's collection. (See photo below.) It, too, has its original green paint. It is this shutter that we will be using as our pattern for all the reproduction shutters that we will be making and installing on the Stone House. Mr. Gainer also used this shutter from our museum's collection as his model for the picture.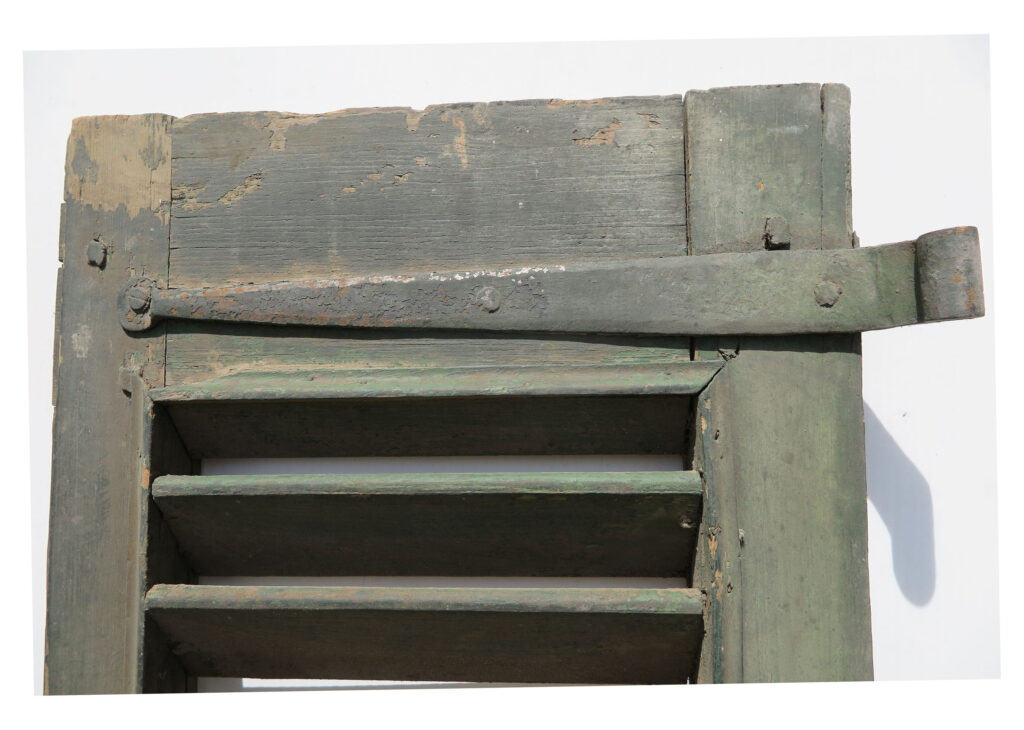 Mr. Gainer similarly used another piece from our collection as his model for the front doors in his picture. Our restoration plan for the house calls for the front exterior doors to be reproduced based on this circa 1800 piece that came from the house located at 5342 Main Street in Stephens City. (See photo below.) The original two-tone, greenish-gray paint job survives on this remarkable six-panel door.
Archeological and structural evidence indicates that there were most likely no covered porches on the front of the house in the 1830 period. Instead, we know there was a stone block stoop in front of the stone side and probably something similar on the log side. We look forward to exhibiting Mr. Gainer's painting in our museum once it is finished. Viewers can then learn more about it and read about the other items and people it depicts.