On the 3rd of June 2023 at approximately 1:25 pm, the last shingle was nailed up over the south gable end of the log addition of the Stone House. (See image below.) This momentous event was the culmination of over thirty years of research, planning, skilled craftsmanship, and fundraising. This achievement was finally made possible because of cooperation between three different companies. Mr. Frank Stroik, the former proprietor of the Country Homestead in Kreamer, Pennsylvania, was the principal contractor, and it was he and his crew that completed the roof over the stone side in October of 2021. Mr. Stroik has since turned over the reins of that company to his son Caleb Stroik, who also worked on the roof over the stone side. For the roof over the log addition, Frank Stroik was joined by James Robert Mitchell II from Vintage Inc. out of Winchester, VA, as well as Seth Fritz, who, along with his boss Chad Wolbert of Catoctin Valley Roofing, helped to complete the job. (Seth Fritz is featured in the image below nailing down the last shingle.)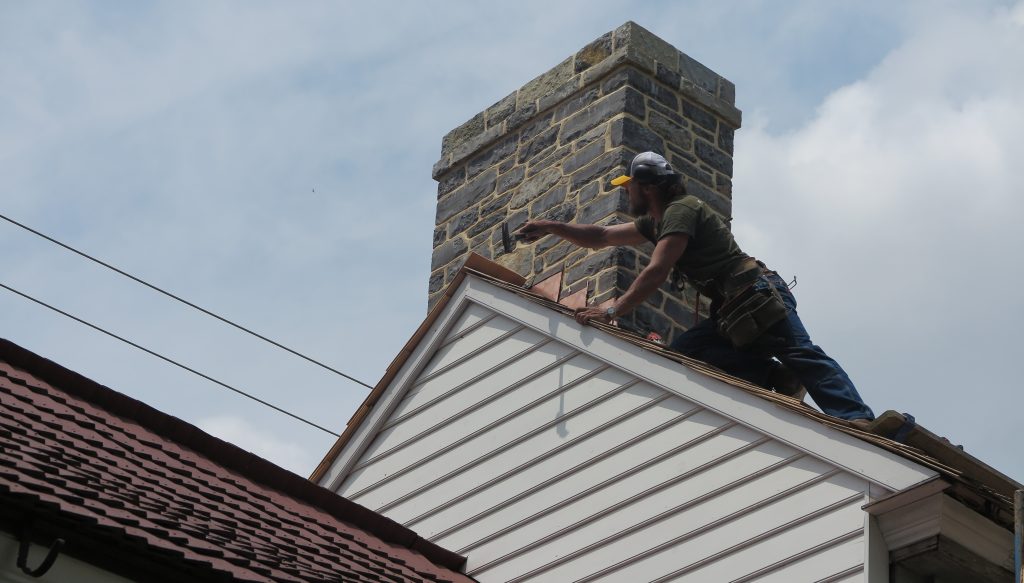 One of the benefits of this approach was the dissemination of the skills and knowledge that Mr. Stroik had in regards to the installation of this kind of side-lap shingle roof. We now have two local companies with staff that are able to do repair work on our roofs over the Stone House. On the day that the job was completed, Butch Fravel president of our board of directors, asked that the work crew members sign a shingle that we would keep as a memento of the finale of the project. (See photo below.)
As the newly installed shingles have not yet been painted, they are a bright contrast to the shingles over the stone side that were painted shortly after they were installed in October of 2021. (See photos below.)
One of the things we have learned by our experience with the roof over the stone side of the structure is that after these shingles are installed they shrink a bit, and a few crack or split along the grain. In turn, we are allowing more time before we paint the shingles over the log side of the house to minimize the shrink factor. We are also going to replace shingles that have cracked or split along the grain before they are painted. Additionally, we will apply another coat of paint to the roof over the stone side at the same time for good measure.


As we move forward with the restoration of the Stone House, the maintenance of this two-sided roof will be a necessary part of the work. One of the reasons that side-lap wood shingle roofs are no longer common is that they require maintenance that other roofs composed of more durable materials do not need. Despite its required extra maintenance and the need it has for specialized skilled craftsmen to conduct the repairs, these roofs over the two sides of the Stone House are a great achievement and a remarkable educational resource for all to enjoy.