With the painting of the newly installed shingles over the stone side of the Stone House, we have completed a milestone phase of the Stone House Restoration Project. As we explained in our last issue, the shingles have been painted with a red linseed oil paint mixed with copper naphthenate. In this article we will address the historical evidence for red paint on early-American wood shingle roofs and explain more about how copper naphthenate is a modern compromise to extend the life of the shingles themselves.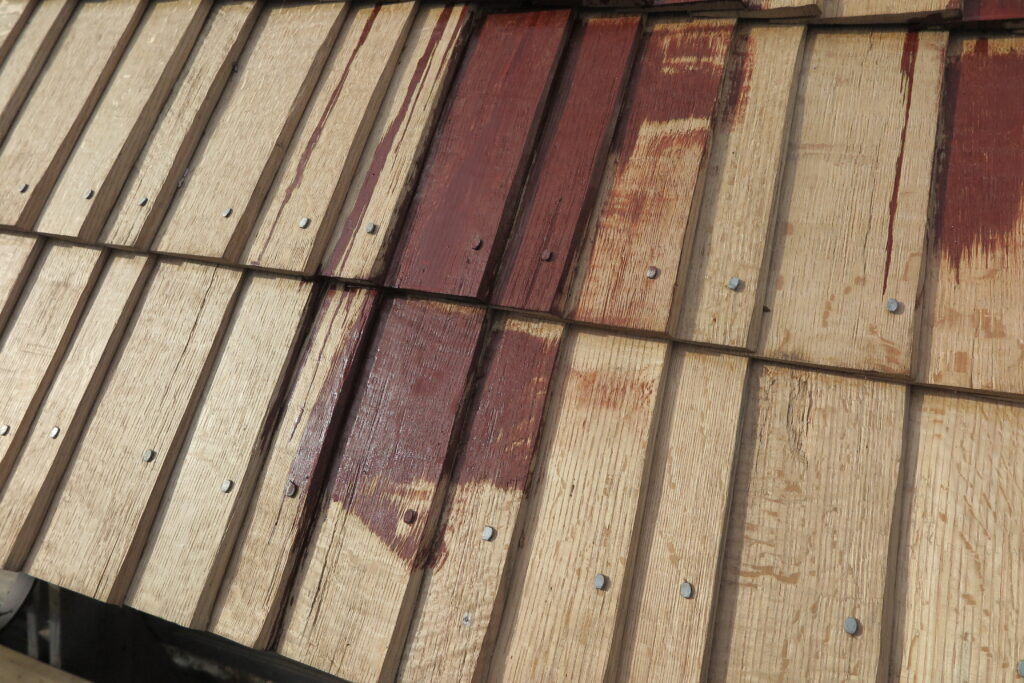 Historically, the red paint used on wood shingles was made of red iron oxide and linseed oil. Iron(III), also known as ferric oxide, is an inorganic compound with the formula Fe2O3. Basically, the historical paint was iron rust mixed with the oil from flax seeds. The paint we are using for our project is Ottosson Linseed Oil Paint, Iron Oxide Minimum color #LFRM. It is mixed with one part copper naphthenate to around three parts of the linseed oil paint. Copper naphthenate is a wood preservative that is the copper salt of naphthenic acid. It makes wood and other cellulosic materials inedible to insects and fungi. Historically, copper naphthenate was not available in the period to which we are restoring the house. Nevertheless, people of that time may have noticed that wood shingles abutting copper flashing did not deteriorate as fast as the other shingles on the same roof. The copper naphthenate will help to ensure a longer lifespan for this expensive reproduction roof.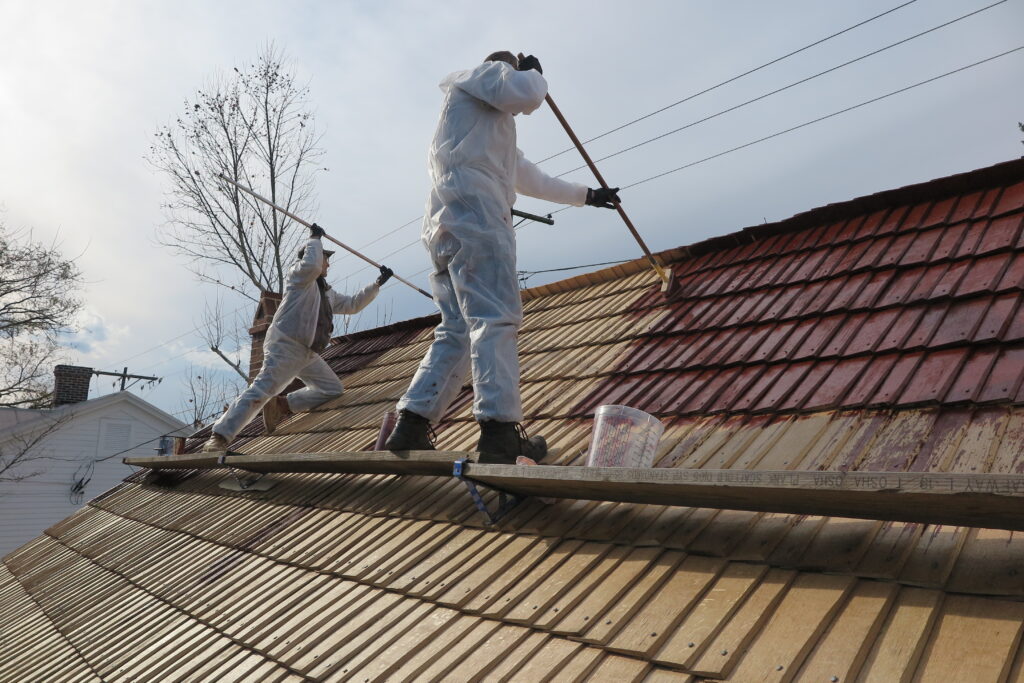 Our consultant for this roof project is Mr. James Houston. He is retired from the Pennsylvania Historic and Museum Commission, where he was involved with roofing projects like our roof on the Stone House at historic sites such as the Daniel Boone Homestead and the Ephrata Cloister. Mr. Houston salvaged period examples of side-lap shingles from a structure in Frederick, Maryland that had surviving red oxide paint on them. (See photo below.) In 2008 Mr. Houston, along with his former colleague Mr. John N. Fugelso, published an article in the APT Bulletin: Journal of Preservation Technology titled "Fabricating and Installing Side-Lap Roof Shingles in Eastern Pennsylvania." In that article they address the historical use of various methods that were employed to prolong the lives of different wood shingle roofs. They note that even George Washington had the wood shingle roof at Mount Vernon painted red. In coastal regions fish oil mixed with brick dust was applied to shingles to achieve a similar effect.
For those readers who live in our neighborhood, please make a point of coming to see the newly completed roof over the stone side of the Stone House. We hope to have the rest of the shingles delivered soon so that the roof over the log side can be finished by this time next year.