Sometimes things survive on old buildings that would have been lost long ago to the elements if they had been left uncovered. Such is the case with some original siding that was left under the roof of the shed addition behind the log side of the house. This siding was historically called weatherboarding. Unlike clapboards, which were generally split, or riven, from sections of cross-sawn logs, weatherboards were sawn lengthwise out of long planks and then planed smooth on their outside surfaces. The weatherboards that survived on the Stone House have a decorative bead planed on the bottom edge of each board. (See image below.)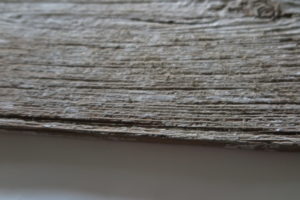 So how do we know that this siding dates to the restoration period of 1830? The nails. The majority of the nails that held these boards on the exterior wall of the log side of the house were hand forged. In other words, they were made by hand. These hand-forged nails date to around 1800 and before. (See image below.) After 1800 they were being replaced on the market by nails with a machine-cut shank and a hand-forged head. Those nails that were partly made by a machine operation were soon replaced around 1820 by nails that were manufactured completely by machine. A few other nails that were found holding the weatherboards were all machine made and were clearly from later campaigns of repair prior to the time when the shed addition was added in 1867. At that time these weatherboards were covered up and enclosed under the roof of that shed addition.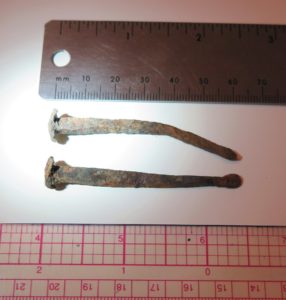 These weatherboards were originally whitewashed. (See image below.) Unlike historical paints, whitewash is a solution of water and lime (slaked lime or calcium hydroxide) as well as chalk dust (calcium carbonate) that was brushed on surfaces. While paint will eventually chip and flake off, whitewash simply dissolves and weathers away. Surface preparation for a new coat of whitewash is minimal compared to the preparation required for a new coat of paint. Often whitewash can be applied directly on a relatively clean, dry surface without any scraping, sanding or priming as is typically needed for a new coat of paint.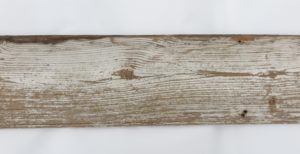 Because of the way whitewash dissolves as it is exposed to the weather, we also discovered evidence of a rear porch with a gabled roof that once existed over the back door of the log side of the structure. The "ghost" of that missing porch's roof apex is in the surviving whitewash on these weatherboards. (See image below.) We are very happy that the workers who built the shed addition behind the log side did not remove these weatherboards.