Daniel Benezet, a merchant from Philadelphia, purchased the Stone House property (Lot No. 48), as well as the neighboring lot to the south (Lot 47), and the two corresponding five-acre out lots from George Cabbage, on 7 May 1767. Historical analysis of the prices of the other lots sold during this transaction show that the vast majority of that £160.10.2 paid by Benezet in 1767 was for the structural improvements on Lot 48. This jump from £10.0.0 in 1761 to £160.10.2 in 1767 is strong evidence pointing to the construction date of the Stone House being between those years.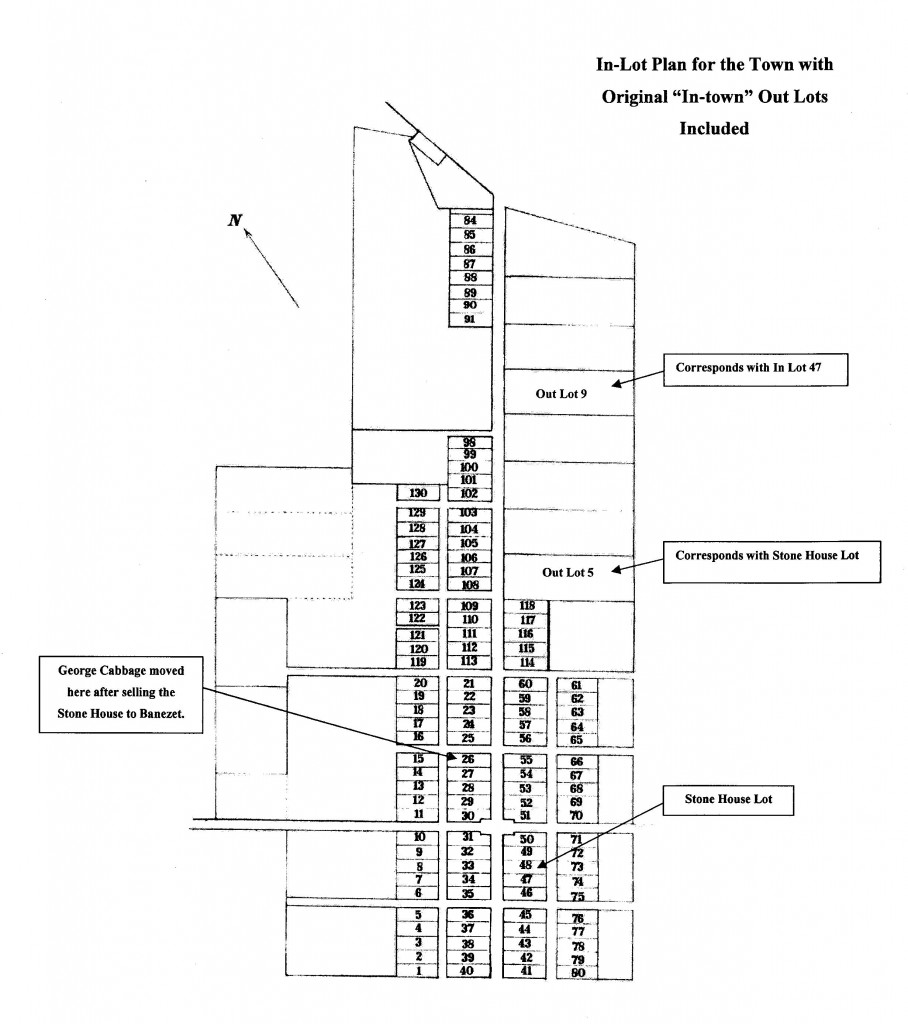 Daniel Benezet (also spelled "Banzot" and "Banezet") being from Philadelphia, Pennsylvania, was not an immigrant to the Valley of Virginia. It is possible that he never even saw the Stone House property or visited Stephensburg. He may have made the purchase on speculation through an agent. Daniel Benezet was a member of a family of French Protestants (commonly called Huguenots) who had immigrated from northern France in 1715 to avoid religious persecution. His family eventually settled in London where they joined the Religious Society of Friends in 1727, and in 1731 the Benezet family immigrated to America and settled in Philadelphia, Pennsylvania. Daniel Benezet's brother, Anthony Benezet (1713-1784), was an educator and an early abolitionist. Anthony continued his association with the Society of Friends (or Quakers) after settling in Pennsylvania and taught at the Friends' School in Germantown, as well as the Friends' English School of Philadelphia, now the William Penn Charter School. In 1754, after leaving the Friends' English School, he set up the first public girls' school in America. As early as 1750 he was teaching slave children in his home during evening hours. He continued to teach slave children from his home until 1773, when he set up the Negro School of Philadelphia for both free and enslaved students. Anthony Benezet is also credited with writing a number of anti-slavery pamphlets, including Some Historical Account of Guinea, and influencing men like Benjamin Franklin and Dr. Benjamin Rush to join the abolitionist cause. We do not yet know (and we may never know) what Daniel Benezet's feelings were on the subject of slavery. Unlike his brother Anthony who failed in his early attempts at the mercantile business, Daniel enjoyed some success as a merchant. The Stone House and other properties that Benezet owned in Stephensburg were not the only lands outside of Philadelphia that he owned. On 27 February 1754 he bought 110 acres in Cocalico Township in Lancaster County, Pennsylvania, from Nicolas Kerber. In short, we see a pattern in the historical record that indicates Daniel Benezet was a typical eighteenth-century American colonial merchant/entrepreneur. He made his money through business ventures and speculation. Daniel Benezet joined other Philadelphia and colonial merchants in signing the "Resolution of Non-Importation Made by the Citizens of Philadelphia," on October 25, 1765 protesting the taxes on British goods that Parliament charged the American colonies. Daniel was married to the wealthy and accomplished Elizabeth North of Philadelphia around 1745. A portrait of Elizabeth painted by Charles Willson Peale survives. Together, Daniel and Elizabeth had at least one daughter, Sarah, who married Thomas Bartow, also from Philadelphia.
It is difficult to say what Benezet used the Stone House for during the years he owned it from 1767 to 1774. It is possible that he rented it out as a private residence, or he could have used it as retail store for selling the types of merchandise that he sold in Philadelphia. Whatever the case may have been Benezet conveyed Lots 47 and 48 plus the two out lots to the next owner Peter Upp for £75, a price that was a little under half of the amount he had originally paid for them back in 1767.